At Prospect Genius, we've created a handful of tools that allow us to analyze the performance of our clients' lead generation campaigns. One of the primary tracking tools used to indicate a campaign's efficacy is the call report, which provides us with statistics about when and how the customers of our clients are searching for their business. These statistics are broken down by day of the week, hour of the day, and length of the call.
We recommend that every business owner take a few minutes to compile data about each day's incoming customer calls. Here's why.
Some Days Mean More Calls
After taking a peek at our Calls by Day of Week tracker, we found that many businesses received a major increase in incoming calls on one particular day of the week.
Since many businesses receive the most telephone traffic on a specific day of the week, this means it's extra important to be available to take calls on that particular day!
For example, across the paving industry, Monday had the highest volume of calls, at nearly 30%.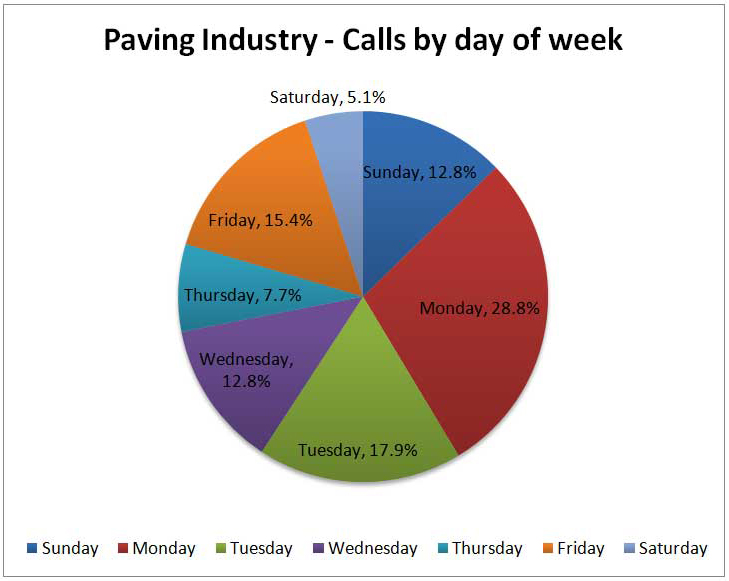 However, for the roofing industry, Tuesday had the greatest number of calls, with 27% coming in on that day.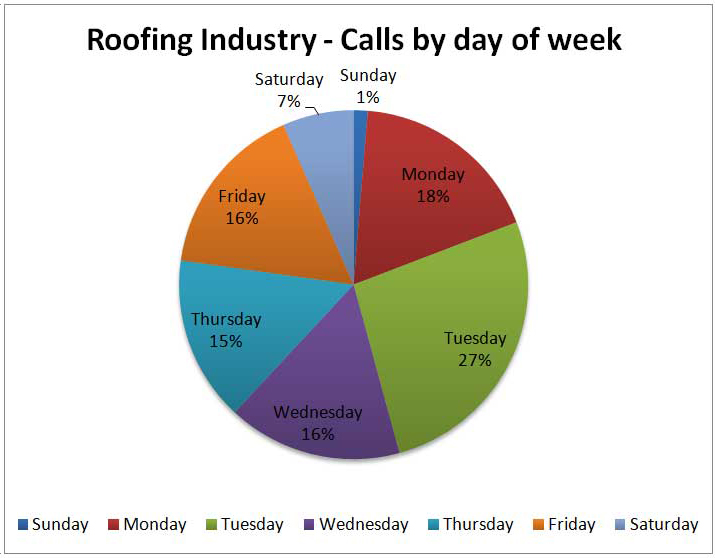 With Saturday and Sunday being the two slowest days for call traffic in both industries, people seem to be waiting for the beginning of the work week to call and schedule their service needs (likely to avoid emergency/weekend service fees). If you miss calls on Monday or Tuesday, you could be missing out on a ton of appointments! Potential customers aren't likely to leave a voice mail or to call back—when you don't pick up your phone, they are probably calling your competitor next!
Your particular business might be experiencing different results from the roofing or paving industries, so it's important to keep track of your incoming calls to understand what your specific call patterns look like.
Strategically Managing Call Volume
Are you too busy to answer the phone? Hire a receptionist! You could bring someone in part time to answer the phones and schedule appointments on your busiest days.
Every business is different, so you should be keeping track of the day and time of all of your customer calls. These metrics can help you determine not only which days, but also what time of day you're receiving the most incoming calls, so you can plan accordingly to maximize your company's success!
Be sure to stay tuned for more details on how you can apply this data to help your business get ahead. Our next blog post will be Part II of this discussion. We'll take a look at a case study to help you understand how to make business decisions using information like which days and times you receive the most calls.
As always, if you have questions, please contact us. We'll be happy to talk to you about your call data and what it can mean for your business!